FORTSETZUNG FOLGT
140 JAHRE HSLU D&K
eine Ausstellungsreihe in Kooperation mit Kunstmuseum Luzern
Teil 1
1.9. – 15.10. 2017
mit Davix, Thomas Galler, Lina Müller, Luca Schenardi und einer Performance von Salon Liz (1. September ab 19 Uhr)
——

Salon Liz & Friends zu Gast im Kunstpavillon Luzern/>>

ptth://

Pavillon Tribschenhorn

6. Mai & 20. Mai, jeweils 18 - 22h (Einlass bis 20 h)

CHEZ LIZ

Persönliche Einladung

Eine exklusive Gesellschaft im versteckten Bungalow im Grünen – ein Hauch von Blondierpulver weht durch die Abendluft. Chez Liz geht der Abend lang. Liz liebt die Hüllen, die Drinks und die Frisuren – die Koketterie mit der eleganten Möglichkeit. Liz ist das Anti-Yoga. Liz interessiert nicht, wer du bist, sondern wer du sein möchtest. Liz wird dich verwandeln. Sie freut sich auf deinen Besuch.

Deine LIZ
3. Juni 14 – 18 h
Wer ist Liz? Die Relikte der vorausgegangenen Abende werden ausgestellt (in Anwesenheit der Künstlerinnen).
18. Oktober 2015
Performance Kunstmuseum Luzern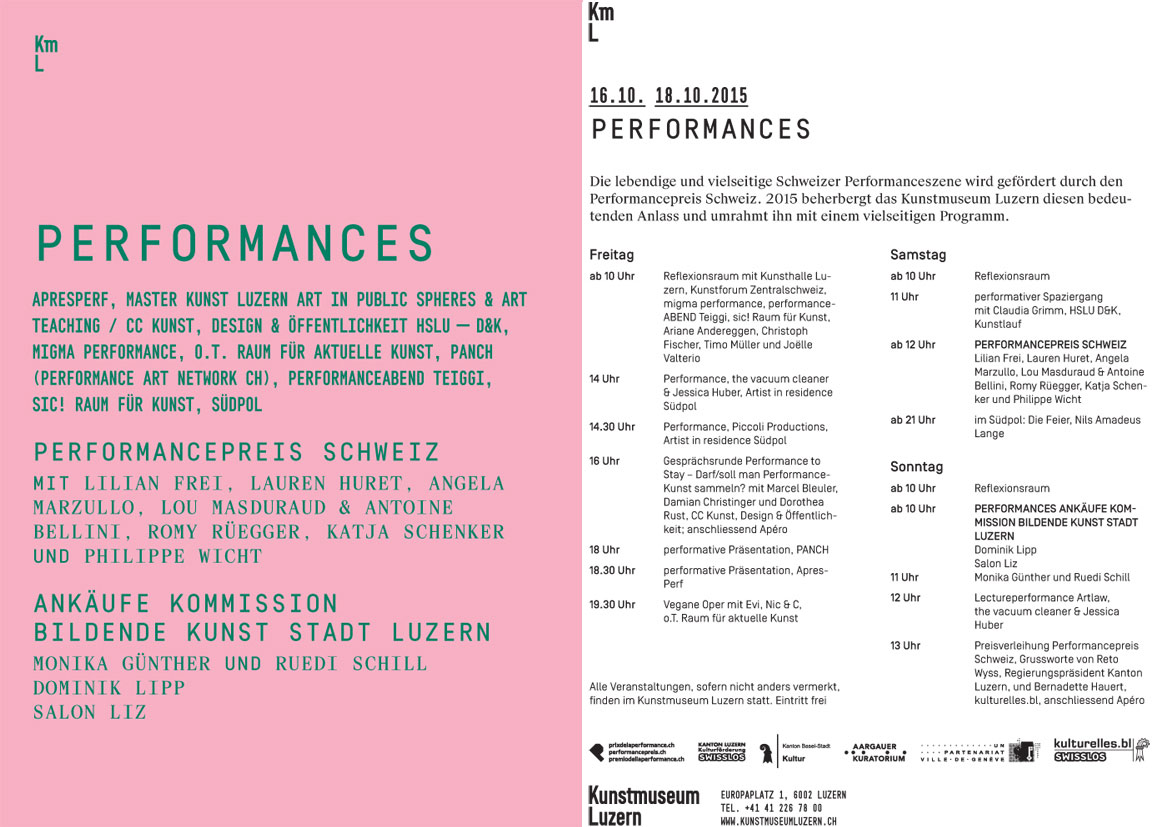 17. Juni – 15. August 2014
DOWN THE RABBIT HOLE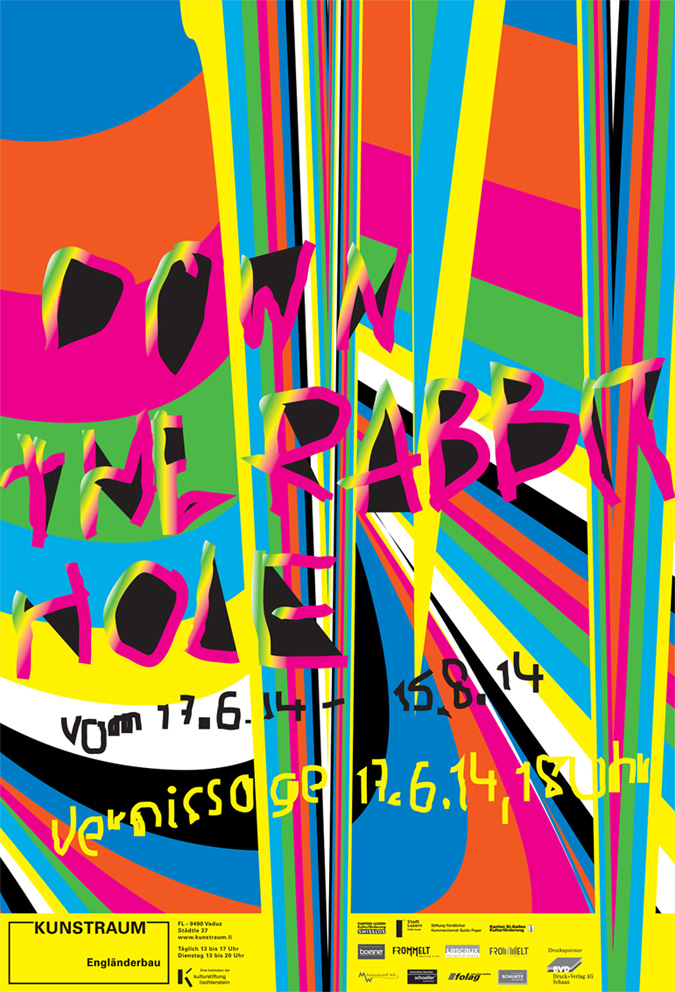 15. November 2013
Wanderer vom Rande des Raumes
Galerie Hollenstein Lustenau
Vernissage: Performance "Les Mystères Cosmétiques" von Salon Liz mit Madame la Lupo, CCO the Hypnotist, Roman the Doorman, Foxy Lady und Sandro the evil fairy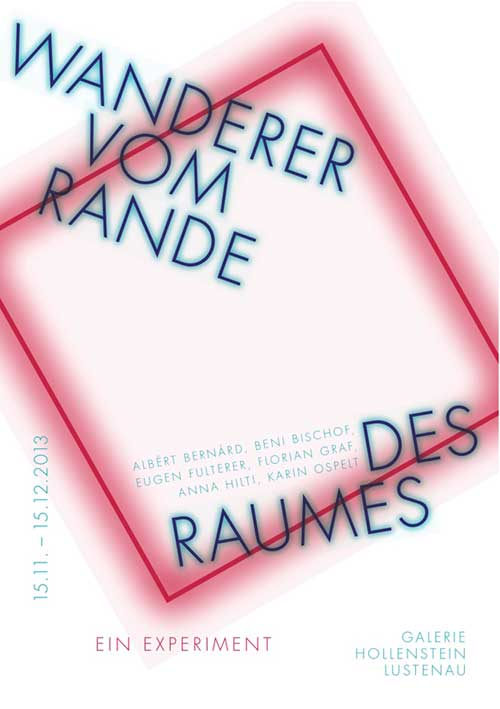 14. Dezember 2012
Wavetest live in der Zukunft mit Kostümen von Salon Liz!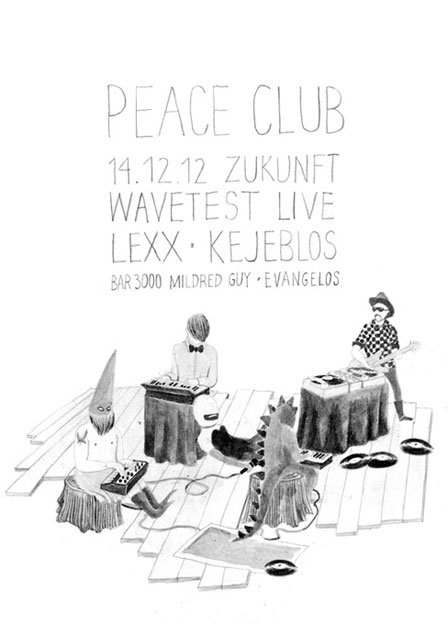 6. Oktober – 24. November 2012
SALON LIZ & ANNA HILTI
Theater am Saumarkt , Feldkirch (A)
Vernissage am 6. Oktober 18h im Rahmen der ORF Lange Nacht der Museen (18-1h)
11. – 31. August 2012
GELEE ROYALE
Schwarzwaldallee Basel, Schwarzwaldallee 305
11. August 19h: Kongress der Potentaten. Standesgemässe Kleidung wird erwartet!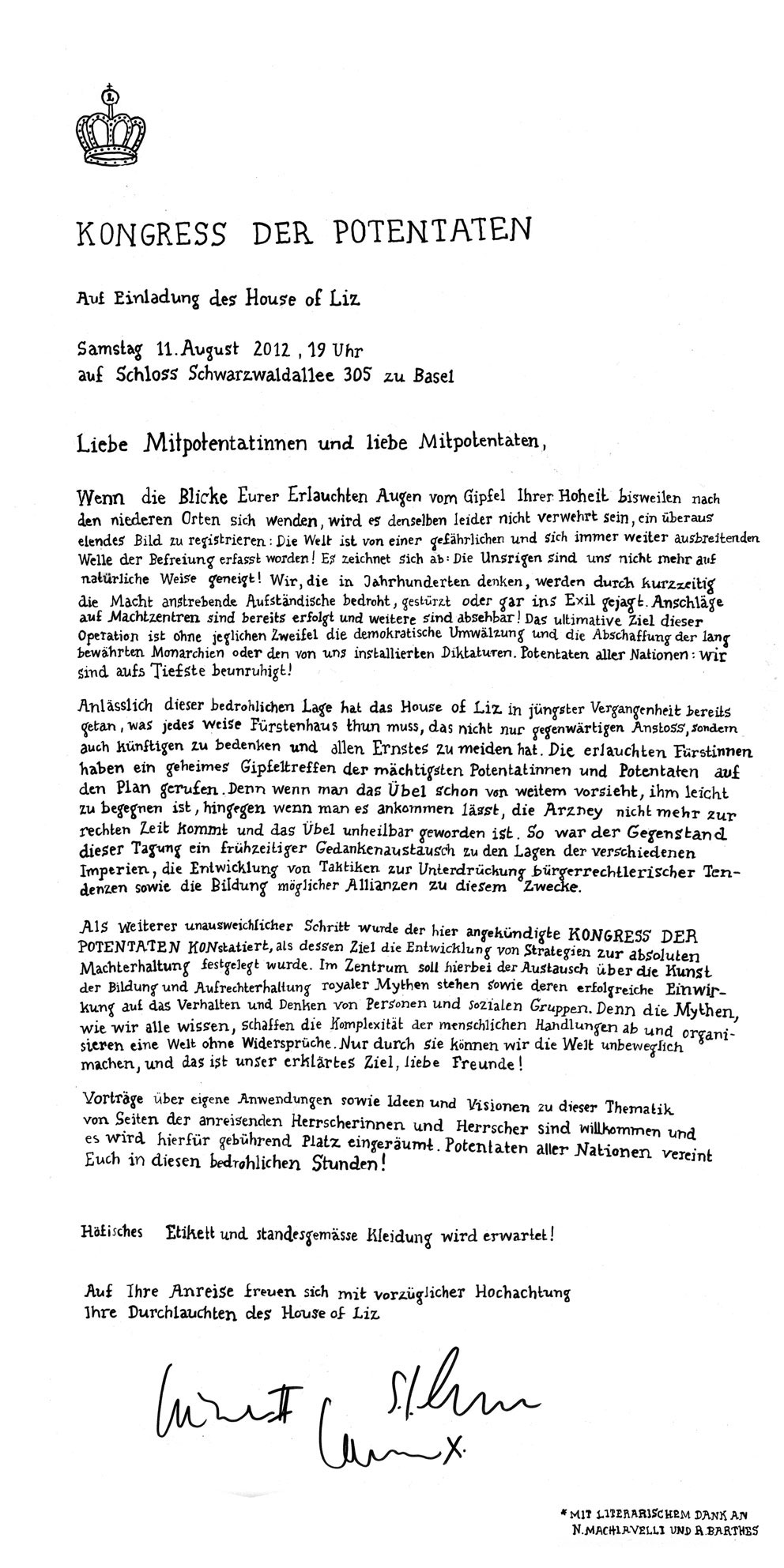 15. Oktober 2011
Golden Club at Kaufin, Schaan (LI)
ab 21 Uhr – mit Late Invitation, Kalif, Kejeblos, Pepe & Shadow, hosted by Salon Liz & Sandro
Dresscode: GOLD!
>>im Rahmen der Ausstellung Dreck hält warm (15. – 30. Oktober 2011)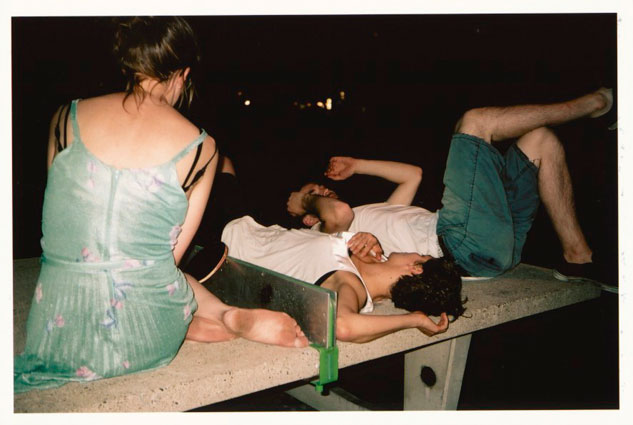 15. Juli 2011
Golden Club at Poolbar Festival Feldkirch (A)
Dresscode: gold
hosted by Salon Liz' Stef & Anna with Sandro of Liechtenstein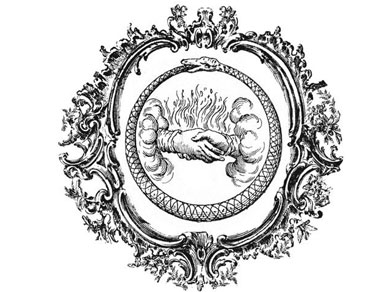 19. Juni 2011
Salon Liz at Art Entertainment & Desire Basel
Sunday 19 June 2011, 14h-open end
Keck-Kiosk (Kaserne Basel)
>>more info here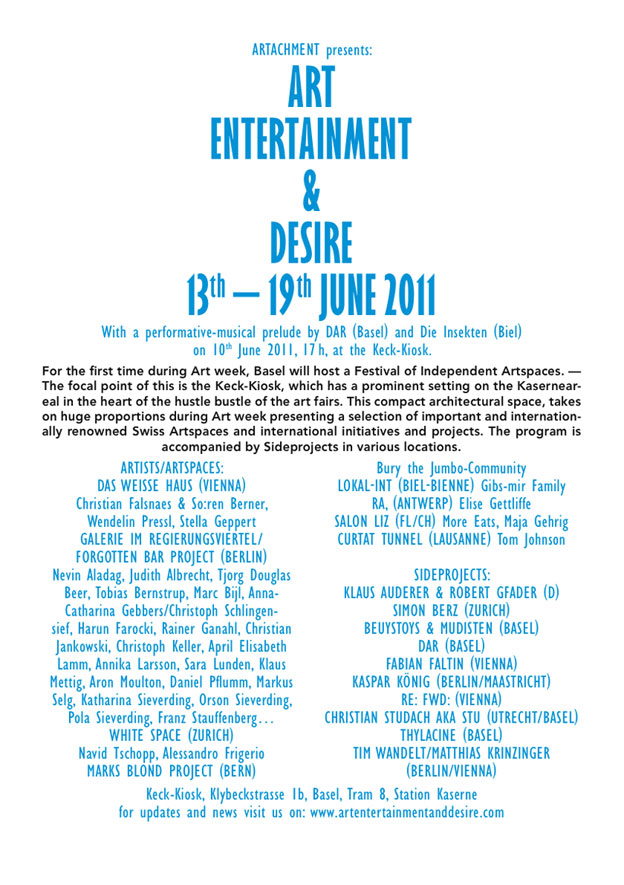 http://www.artentertainmentanddesire.com/
—
am 25. April 2011
Salon Liz & Sandro präsentieren einen Abend in der Boschbar (ZH)
—dress sexy, dress red, be a bohrmaschine—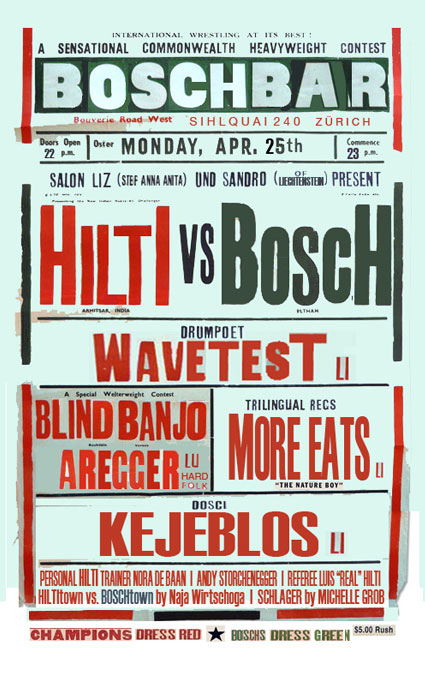 mit Wavetest, Blind Banjo Aregger, MoreEats, Kejeblos und vielen anderen!
—-
WES' CIRCO PAPI KUKO CONTINUES!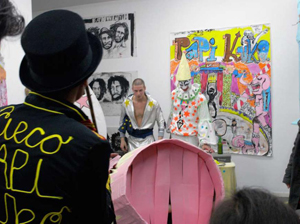 Raamproject V (Window Project V) at Showroom MAMA Rotterdam
28 December, 2010 – 20 January, 2011
Opening: January 7th 2011, 16:00-18:00
In 2008 Wes Westenburger developed the travelling performance Wes's Circo Papi Kuko. During Raamproject V elements from the original performance shall be shown again. The work consists of circus costumes made by Liechensteiner/Swiss art collective Salon Liz, who are Anna Hilti, Stefanie Thöny and Anita Zumbühl.
read more about the project here
——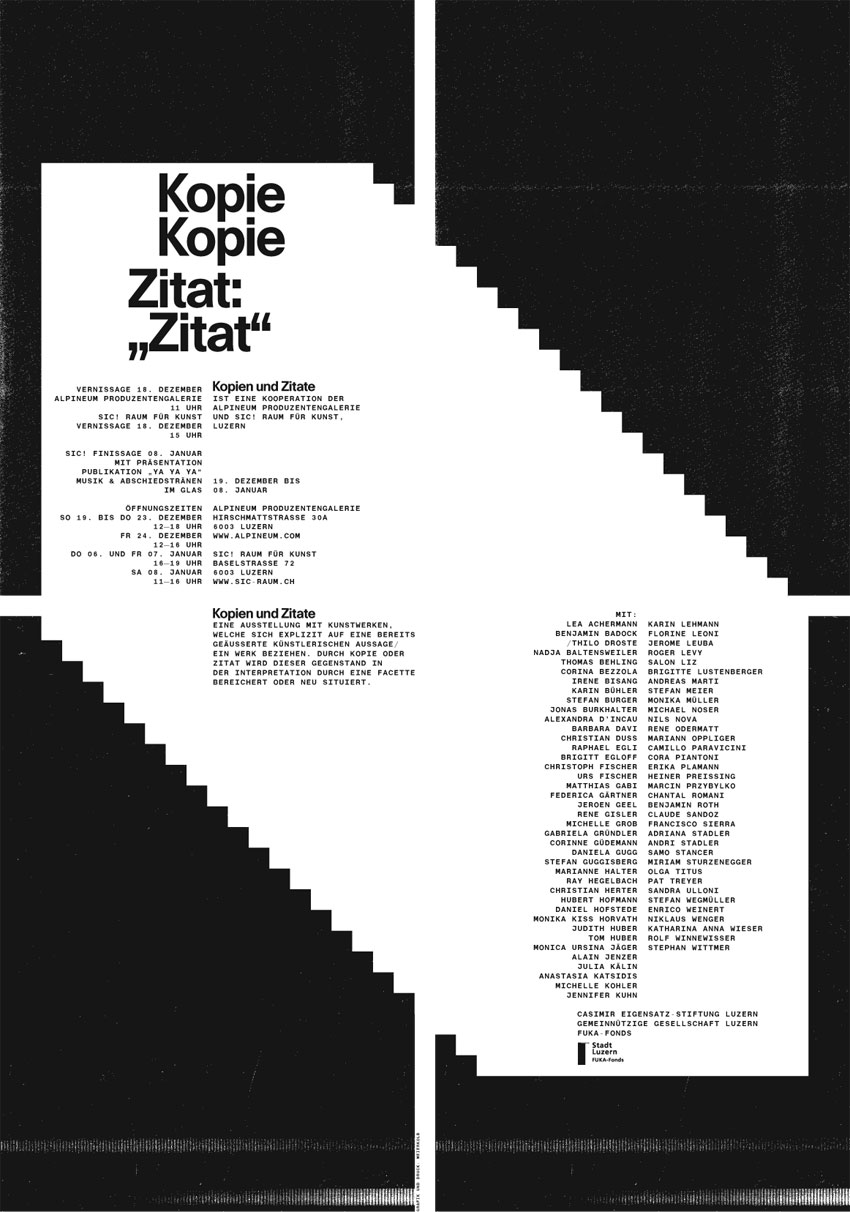 >>>Alpineum Produzentengalerie